| | | |
| --- | --- | --- |
| | News | |
| | | |
| --- | --- | --- |
| | Team Info | |
| | | |
| --- | --- | --- |
| | Past Seasons | |
| | | |
| --- | --- | --- |
| | Feedback | |
Writing Staff Close-up Shop
09-02-2006 11:24
By A-WOL / MLSB.com


After serving Berkshire County for 3 years, the writing staff of Emulationzone.org has closed their Dalton Bureau for good. This closure stems from an announcement earlier this month stating that A-WOL would be departing from the league at the end of the season. If and where a new bureau will be opened is dependent on A-WOL's softball plans in 2007.

The sports writing staff of Emulationzone.org was formed in 2004 and covered the "GD Avengers" as they played at the Softball Complex in 2004. In 2005, the writing staff followed the newly renamed "High Street Avengers" as they moved to the Bud Hall league in Dalton. Though the team was dissolved in 2006, the writing staff picked-up a contract to cover the newly formed "Pittsfield Vets" organization that season.

At the time of the closure, the staff consisted of a writer, web designer / web master, a photographer and a statistician. Contributors to the staff included Andy Wolan, Rick Palma, Ryan Molley, and the ever popular Mike Corbett.

<!br>comments: 0
send to friend
---
Hot Stove Cooking this Off-season
09-02-2006 11:23
By A-WOL / MLSB.com
Though the 2006 season is over, the league itself has been bustling with activity. Below is a list of what's been cooking since the season ended:



1) Nathan of the Pittsfield Vets has announced that he has formed a team to play at the Softball Complex in the fall 2006 season. At press time, the team consisted of numerous Pittsfield Vets team members, including Nate, Devon, Josh, Jason K, Joelle, Jon N, Rick Palma and Jim K. Others interested in joining his should respond to Nate's thread in the message board section of the site. At press time, it is unknown whether or not this team has a sponsor, but one is believed to have signed on.

2) Nathan of the Pittsfield Vets has announced that he will be starting his own team next season. In August, Nathan announced that he has rounded up a local business willing to sponsor the team. The team will be playing in the Bud Hall League in 2007. Word on weather or not the Pittsfield Vets softball club would merge with Nathan's new club has not been released, but appears probable.

3) Jason B. of "Tahiti Takeout"announced that he has played has last season in both the Bud Hall League and at the Softball Complex. According to the press released, Jason B. will be moving out of the area. It is unknown weather or not Jason will join a new league next season, but sources indicate that odds are "fairly good".

4) A-WOL of the "Pittsfield Vets" announced in August that this would be his last season playing in the Bud Hall league. This move stems from his announcement that he would be leaving the area. While there is no official word on where he will play in 2007, rumor is that he will be playing somewhere in Worcester county. Where ever A-WOL plays next season, expect the writing staff, photographer and statistician to follow, along with perhaps the "Corbett Report".

<!br>comments: 0
send to friend
---
Summary of Top Player Stats for 2006
08-15-2006 22:31
By A-WOL / MLSB.com
Top 3 Batting Stats:
Most games: A-WOL (13), JOE-L (11), Rick (11)

Best Batting Avg (male): Bill C. (0.650), A-WOL (0.595), Nate (0.552)
Best Batting Avg (female): Kim (0.524), Sarah (0.476), JOE-L (0.457)

Most at bats (male): A-WOL/Rick (42), Jon N. (33)
Most at bats (female): JOE-L (35), Kim, Sarah (21)
Most hits (male): A-WOL (25), Rick (20), Jon N./Nate (16)
Most hits (female): JOE-L (16), Kim (11), Sarah (10)

Most runs scored (male): Jon N. (11), A-WOL/Bill C. (10)
Most runs scored (female): JOE-L (7), Kim (6), Dawn (4)
Most RBIs (male): Rick (12), Jessie (10), Bill C./Kevin (8 )
Most RBIs (female): JOE-L (8 ), Kim (4), Sarah (3).

Most HR: Jessie (4), Bill C. (3), Bishop/Brian/Jason K./Josh S. (1)
Most 3B (male): Jim K. (3), A-WOL/Bishop/Jon N./ Jon G./Paul (TT) (1)
Most 3B (female): None
Most 2B (male): Rick (6), Jim K./Kevin (4)
Most 2B (female): JOE-L (4), Kim/Sarah (1)
Most SAC (male): Rick (2), A-WOL/Devin/Jim K/Jon N./Nate (1)
Most SAC (female): Dawn (2), JOE-L/Sarah (1)

Most walks (male): Devin (3), Jon N./Pete/Trever (1)
Most walks (female): Dawn (6), JOE-L (2), Collean (1)
Most strikeouts (male): A-WOL (4), Jason L. (3), Jim K./Pete (2)
Most strikeouts (female): Dawn (4), Jessica (3), Sarah (1)

Most number of references to "The Corbett Report": Wolan (31), Rick (3), Nate/Umpire Ron (1)


Top 3 Pitching Stats:
Best RA: Rick (15.67)

Most IP: Rick (67), A-WOL(13), JOE-L (3)
Most CG: Rick (8 ), A-WOL (2)
Most Wins: Rick (1)
Most Saves: None
Most blown saves: None

Most K's: Rick (18 ), A-WOL (4), JOE-L (1)
Most Walks: Rick (5), A-WOL (2), JOE-L (1)
Most HRs allowed: Rick (11), A-WOL (7), JOE-L (0)


<!br>comments: 0
send to friend
---
A-WOL Moonlights on B-Crew
08-15-2006 12:13
By A-WOL / MLSB.com


As luck would have it, right in the middle of the B-Crew Vs Old Forge playoff game, a fire broke out in Hinsdale. Since several players on the team are volunteer firefighters, they had to leave the game to address the fire. Though the team was down by 14 runs after 3 innings of play, this incident leave B-Crew short of three players. This would also force the team to forfeit the rest of the game, handing the win to Old Forge.

But Old Forge agreed to allow B-Crew to round up any players they could and to make the outcome of the game stand, win or lose. And with that, A-WOL was recruited to play for B-Crew for the remainder of the game.

So how did the game turn out? Read the game summary by clicking here

<!br>comments: 0
send to friend
---
Lost Bat - $35 Reward
08-13-2006 17:04
By A-WOL / MLSB.com
Andy Wolan (A-WOL) lost his bat at a game earlier this month and would like your help in recovering it. The bat in question is an Easton "Black Magic" aluminum bat. This particular bat is painted black.

The bat was mistakenly left behind near the bleachers on the first base side after the Vet's 5:00pm game on Sunday, August 6. If you or someone you know happened to have picked-up the bat, please contact Andy by either calling 684-4267 or by email: andrew.wolan at verizon dott net. There is a $35 reward for the return of the bat. Below are some photos of how the bat looks like.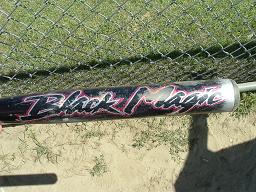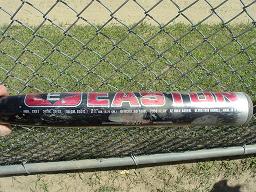 More information can be found here.<!br>comments: 1
send to friend
---
Fireworks Explode at League Meeting
08-11-2006 10:46
By A-WOL / MLSB.com


What was suppose to be a no-trills league meeting quickly become a shouting match between a manager and two league officials. It all started at Sunday's league meeting to discuss the playoffs. Half-way through the meeting, Jennifer, the somewhat overly passionate team captain of Ryan's Landscaping, expressed frustrations regarding poor outfield lighting conditions. She claims that in all of her night games, at least one set of outfield lights was not on. Her concern was that her entrance fee of $200 was not being put to good use.

Dan, the league commissioner, stated that the problem could be due to fact that the wiring is aging. He went on to say that both Western Mass Electric and Ron (who works for WME), took a look at the lighting system and found no problems. At this point, Ron exited from the game he was umpping and joined the conversation.

At this point, the discussion became heated. Jennifer reiterated her frustration regarding the lighting conditions and mentioned that she felt her sponsor, R.L., was not reaping the full benefits of sponsorship. Dan then mentioned that if she wants, he could refund her league fee of $200. Then somehow, either directly or indirectly, Ron became part of the argument. Jenn mentioned that Ron was insulting her team's players during their games, claiming that Ron called one of her female players "fat". At this point, Jenn became emotional.

(In this sport's writer's opinion, there are no overweight or "fat" people on Jenn's team, period. Refer to the "photos" section of the site to see player photos taken at three games involving Ryan's Landscaping, along with some possible photos illustrating the lighting issues.)

This was followed by some heated exchanges between Ron and Jenn. These exchanges ended when Dan offered to refund R.L. the $200 entrance fee once more and Jenn accepted.

Jenn might have gotten more than she bargained for because not only is her team out of the 2006 playoffs, the team is not welcomed in the 2007 season.

So what happened? Why was Jennifer so upset over such a seemly trivial matters? Read Corbett Report #2 for the untold story regarding Jenn's outburst.

<!br>comments: 0
send to friend
---
Corbett Commissioned to Write a "Corbett Report"
07-31-2006 10:42
By A-WOL / MLSB.com


Michael J. Corbett, writer of the hard-hitting "Corbett Report" from 2004, has been commissioned to write one last "Corbett Report" for the Vets in their 2006 season. For those that are unfamiliar with "The Corbett Report", it was a section headed by Mike in which he would provide his commentary on the most recently played game. His commentaries were hard-hitting and hilarious.

For the record, Corbett mentioned that he will be his final column entry for any team's website.


<!br>comments: 0
send to friend
---
A-WOL's Streak Snapped at 49 Games
07-29-2006 15:53
By A-WOL / MLSB.com


A-WOL's streak of 49 consecutive games played was snapped at game 10 as he sat out his first game in 3+ seasons. "I've turned down too may family gatherings for softball," said A-WOL. "After 3 plus season, it was only fair for me to sit out a game for once."

The streak started back in 2003 as A-WOL was a member of the "GD-AIS" team. His streak continued as a member of the Avengers in the 2004 and 2005 seasons and for the greater half of the 2006 season with the Pittsfield Vets. The streak came to an end as A-WOL choose to sit out game 10 in light of visiting relatives.

During this streak, A-WOL came to every scheduled game and either fielded, batted, coached, umped, or all of the above.

While outsiders may scuff of this streak, saying "Big deal", it is important to note that such a streak implies devotion and personal sacrifice. Since every player plays for fun and the games are not always scheduled at convenient times, keeping such a streak alive means cutting short on vacation plans to show-up for a game, or showing-up to the field in weather that may favor a rain-out. In some cases, it meant playing with an injury.

A-WOL's streak is the longest on record in the league. To commemorate the streak, the league has agreed to erect a monument just outside of center field. More news on this monument as it becomes available.


<!br>comments: 0
send to friend
---
A-WOL Moonlights for GD-Crew
07-10-2006 23:25
By A-WOL / MLSB.com


With Ryan's Landscaping short of players at game time, A-WOL was call to sub-in. Shortly past game time however, the rest of the R.L. squad showed-up, muting the point of having a sub. So instead, A-WOL played on GD-Crew and reminisce about seasons past with former teammates. Andy was 3 for 3 with a run, but it wasn't enough as R.L. won the game by around 10 runs.

… And all A-WOL took was a blurry shot of Rick and an awful photo of Amy of Ryan's Landscaping running past third base barefoot. (Right)


<!br>comments: 0
send to friend
---
A-WOL Moonlights as Umpire
06-30-2006 15:45
By A-WOL / MLSB.com


With the umpire for Game 7 was a no show, A-WOL took matters into his own hands. A-WOL, who has never called in a game, received the blessing of both the Pittsfield Vets and Champlain Masonary to be the game's umpire. But it didn't stop there. Andy being Andy also recorded the play-by-play action of the game. You can download and listen to the game in its entirety by clicking here

<!br>comments: 0
send to friend
---
Kim named team Treasurer and Roster Manager
06-29-2006 23:00
By A-WOL / MLSB.com


After Game 6, the team meets to elect a team treasurer and team roster manager. When all was said and done, Kim would walk away with both position In addition to her duties on the field, Kim will now be in charge of compensating the umpire a the start of each game, and will also be in charge of the team's roster. The writing staff would like to congratulate Kim on her new positions.


<!br>comments: 0
send to friend
---
Corbett runs for bid to become next sheriff
06-21-2006 18:02
By A-WOL / MLSB.com



It has come our attention that Mike Corbett has plans to exchange his commentary pen for the badge. That's right, Mike Corbett, the commentator we have all grown to love, has plans to become the next sheriff of York County, ME. But before that can happen, he must the post via an election. If he wins, "Sheriff Corbett" will be on the beat in ME, brings his own flavor of "Corbett Justice" to the area. We wish Corbett the best of luck on his run to office.

For more information, refer to this website.


<!br>comments: 0
send to friend
---
A-WOL Moonlights for Ryan's Landscaping
06-16-2006 19:07
By A-WOL / MLSB.com
With their starting pitcher unavailable to play, and The Vets free of any games during the week, Ryan Landscaping picks-up A-WOL to fill in for two games. A-WOL pitched a 17-8 loss against Tahiti Takeout and assisted in a 15-6 win over old Forge.

For more information on these games, refer to the game summaries section of the site.

<!br>comments: 0
send to friend
---
Old Forge 3B Suffers Injury to Right Eye
06-15-2006 22:25
By A-WOL / MLSB.com

She might be smiling now, but she probably wasn't when this happened. The Old Forge's third basewoman, Melissa (?) was hit in her right eye on either a line drive or on a bad hop to third base. This injury occurred at the game prior to Old Forge's match-up against Ryan's Landscaping.

While it might look nasty, Melissa (?) reports that the pain to her eye had subsided by game time tonight. We at the staff would like to wish her a continued speedy recovery.


<!br>comments: 1
send to friend
---
While Joelle is away, A-WOL will play manager
06-11-2006 22:06
By A-WOL / MLSB.com


After game 2, team founder and captain Joelle announced that she would be going on holiday for the next two weeks, causing her to miss games 3-5. In her absence, Joelle has asked team member and former A's manager "A-WOL" to manage the team in her absence.

Prior to joining the Vet's, Andy Wolan, AKA "A-WOL", managed the "Avengers" franchise for two seasons. He has chosen not to run a team in 2006 to focus on game playing, stating he would "only manage a team again if the team really needed him".



<!br>comments: 0
send to friend
---
Palma drilled in the head on a bad grounder.
06-04-2006 19:14
By A-WOL / MLSB.com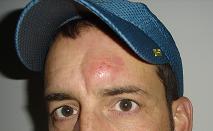 It has come to our attention that Rick Palma, a team member for both the Pittsfield Vets and GD-Grew, has suffered a hit to the head this afternoon. While pitching for GD-Crew, a batter hit a ground ball back to Rick. Unfortunately for Rick, the ball took a bad hop off the rubber on the pitching mound and struck Rick in the forehead. Rick reported seeing double after the incident and now has a large bump on his head. (See photo.) Rick fears that he might have suffered a concussion as a result.

We at the writing staff would like to wish Rick a speedy recovery from what is surely a frightening experience.

<!br>comments: 1
send to friend
---
Avengers Absent from 2006 Season
06-03-2006 17:47
By A-WOL / MLSB.com

After running and managing the Avenger's franchise for the past two seasons, A's team skipper A-WOL announced that the Avengers would not return for the 2006 season. Earlier this year, Wolan announced that he wanted to pass off managerial duties to someone else so he could focus on playing the game, not managing it. This decision comes after a difficult 2005 season in which the team nearly disbanded early in the season due to an internal mutiny.

Team members of the old A's organization have either joined with other teams in the Dalton CRA, started their own team, or retired from the sport altogether:

- Jason Bennet formed the team "Tahiti Takeout", which is joined by John, Dale and his wife.
- "The Dean" and Rick Palma joined GD-Crew
- Derek will be unable to play this season due to residency requirements in earning his nursing degree.
- Antonio and Ali retired from the game.
- Scott Lord is unable to play due to cancer.

As for A-WOL, Wolan he joined the newly formed "Pittsfield Vets" Organization. Rick Palma has agreed to play "double duty" with GD-Grew and with his old team skipper on the Pittsfield Vets softball team.


<!br>comments: 0
send to friend
---
News archive